A scooter on an RV is the ideal portable secondary vehicle.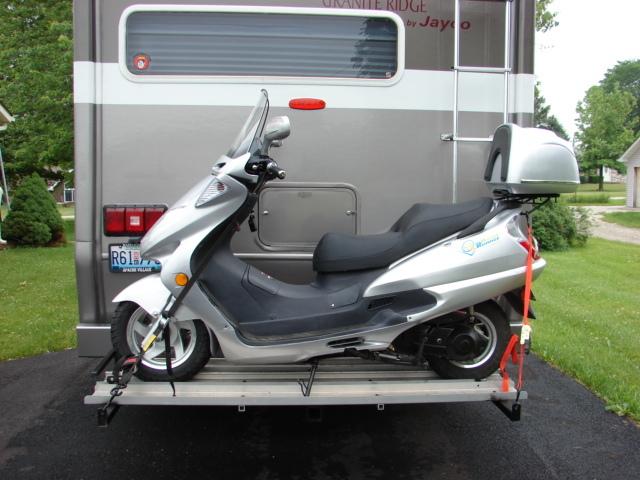 Local travel when travelling with a recreational vehicle is awkward. Parked, leveled, and attached to hookups, the RV is not a solution to local transportation and being confined to walking distance from an RV park is frequently very limiting. Towing a car about is one solution, but one that adds drag and all of the maneuvering problems of hauling a trailer to the driving process, not to mention wear-and-tear on both vehicles over vast distances. Bicycles are one solution, but a limited one.
The motorscooter docked to its mothership, is easily removed and ridden, does not add significant drag when driving, and is serious transportation for local jaunts -- shopping sightseeing, scouting for campgrounds, etc. In today's age of cellular phones, it can be very convenient for one member of a party to scout out possible destinations on a scooter to avoid having to take the mothership into awkward places where unknown terrain might present turning or navigation problems.
A number of clever RV rack designs are available for scooters. Here's one for two scooters.
When hookups are certain, an electric scooter can be an ideal ancillary RV vehicle. Quiet, and gas free, an electric scooter may also require no licence or registration. See electric motorscooters.
Interestingly, the Auto Club offers an extended membership option which covers roadside assistance to RVs and motorcycles (scooters). At about $27/year, this coverage is a must for the scootering RVer.